SINGAPORE: Six super luxury homes were sold for $10m and above after the cooling measures.
Despite the cooling measures imposed back in July, foreigners and utra-wealthy individuals still flocked to Singapore for their luxury home purchases properties still came cheaper compared to other hot areas such as Hong Kong, OrangeTee & Tie noted.
Data from the firm showed that homes sold for less $3m and above (but less than $5m) in Q3 hit 474, which is higher compared to the four-year average. In addition, six super luxury homes were sold for $10m and above after the property curbs.
"The robust demand for pricier luxury homes suggests that Singapore remains a top investment destination amongst high net worth individuals (HNWI) and affluent foreigners," OrangeTee & Tie head of research and consultancy Christine Sun said.
In a previous study by UBS, average forecasted returns in Singapore's property market for 2018 to 2022 are predicted to beat the Eurozone, the US, and even the global average.
"In developed markets such as Japan, Australia and Singapore, the already strong property market fundamentals will be further enhanced by the increased regionalisation of investment and capital flows," the report's authors said.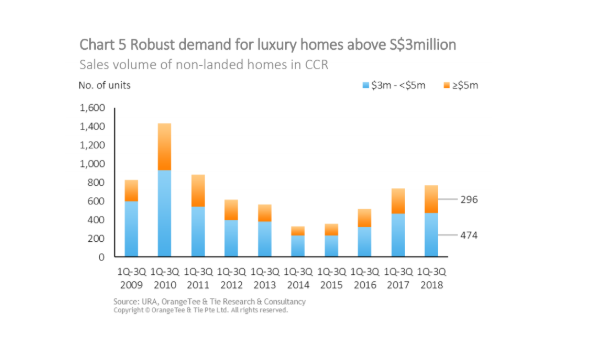 Meanwhile, OrangeTee & Tie also acknowledged that transactions of luxury condos in the core central region (CCR) crashed 40.5% QoQ to 569 units in Q3. Demand for condos worth $3m and above however remained healthy at 187 units which is higher compared to the five-year average sales of 173 units, the firm explained.
For new luxury condos, both new and resale luxury condos reached a new high of average prices which hit $2,819 psf and $2,063 psf, respectively, the firm found. The highest transaction for the quarter was a 438 sqm resale unit at the Urban Resort Condominium for $13.9m or $2,948 psf.
Aside from the unit in Urban Resort Condominium, other notable transactions are a 273 sqm unit at Bishop Residences sold for $11.5m, a 290 sqm Twentyone Anguillia Park and a 284 sqm unit at 336 River Valley both sold for $11m.
In general, Singaporeans still made up the majority (78.2%) of condo buyers in Q3 2018 from 75.4% of buyers in Q3 2017, the firm noted. Moreover, the imposed additional buyer's stamp duty (ABSD) imposed on foreigners and permanent residents (PRs) did not do so much as foreign purchases only dipped 0.5 ppt QoQ to 6.1% whilst PR buyers fell 1.4 ppt to 15% in Q3.
The study found that Mainland Chinese remained as the top foreign buyer in Q3 2018, followed by Malaysians and Indonesians. The firm noted that a majority of Malaysians (82.4%), Indians (71.2%), and Mainland Chinese (63.1%) buyers prefer to buy homes below $1.5m.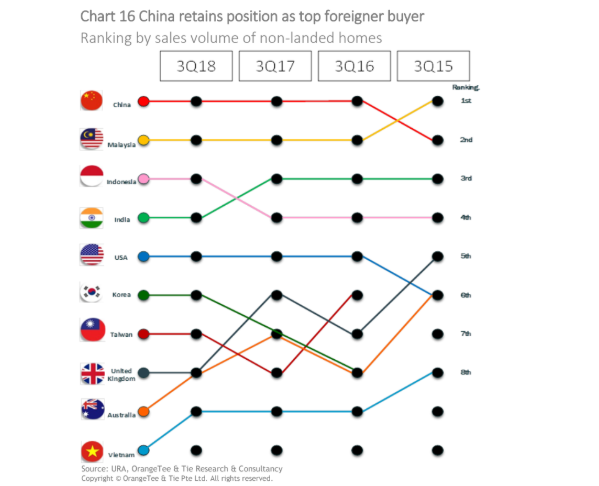 According to Sun, the ongoing US-China trade war may have also spurred some Mainland Chinese to invest in Singapore to hedge against the devaluation of their currency. This may also be the case for Indonesians that may have also transferred their funds to Singapore as a hedge against further depreciation of the rupiah, Sun added.
Source: Singapore Business Review, 21st November 2018, Staff Reporter (Photo: Pan Xunbin, Charts: URA, OrangeTee & Tie Research & Consultancy)