SINGAPORE: The number of resale transactions for flats rose nearly 19 per cent in the third quarter of this year as prices remained flat, according to figures released by the Housing and Development Board (HDB) on Friday (Oct 26).
Resale transactions jumped from 5,941 cases in the second quarter to 7,063 cases in the July to September period, an 18.9 per cent increase. On a year-on-year basis, resale transactions for the third quarter were 21.6 per cent higher.
The resale price index dipped slightly by 0.1 per cent from 131.7 in the second quarter to 131.6 in the third quarter.
Resale prices for HDB flats have been on the decline over the last year. Prices fell 0.7 per cent in the third quarter of 2017, 0.2 per cent in the fourth quarter of 2017 and 0.8 per cent in the first quarter of this year, although they inched up 0.1 per cent in the second quarter.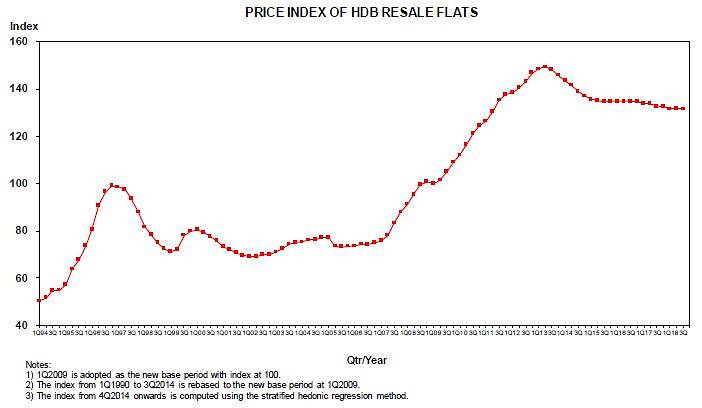 3,800 BTO FLATS ON OFFER
The HDB also announced it will offer about 3,800 Build-to-Order (BTO) flats in Sembawang, Sengkang, Tampines, Tengah and Yishun.
Those in Sembawang, Sengkang and Yishun will have a shorter waiting time of two-and-a-half years, instead of the typical three to four years, for the flat buyers, HDB added.
Source: Channel NewsAsia, 26th October 2018 (Photo: Gaya Chandramohan, Graph: HDB)